Note: If you have the older oval or round MFD display
the reset method can be found in this thread over here.
After some experimenting and general poking around, here is the method for resetting the engine hour counter on the Polaris MFI displays, which are used on the Virage and Genesis models.
There are four different versions of these MFI displays. I expect they all will respond the same, but I have only tested on these part numbers (so far);
3280365 2001-2004
Virage (no electric reverse)
3280371 2001-2004
Genesis (PERC electric reverse)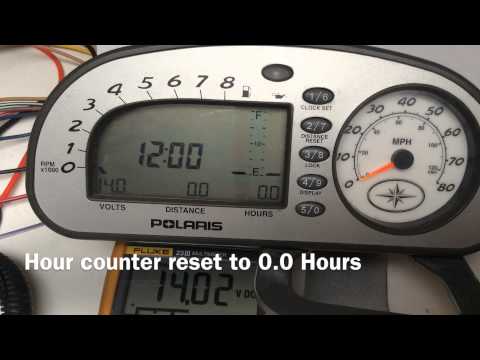 How to Reset the Engine Hour counter on the Polaris MFI display (Genesis & Virage)
Press and hold top button and bottom buttons (1 and 5) until speedometer needle does full sweep.
Graphical tach shows repeating full sweep animation from 0 to 8000RPM
Message area says 'LOCK ERROR'
Digit 1 shows under oil bars (the depth sensor display area)
Compass pointer continuously sweeps clockwise
Clock shows time with pulsing colon
Release 1 and 5 buttons
Press and hold LOCK button until LCD reboots and speedometer needle does full sweep
Release LOCK button
Wait for display to finish rebooting.
Hour counter should now read 0.0



Notes:
It has been known for years that the engine hour counters on Polaris watercraft could spontaneously reset to 0.0 hours. Often this would occur when the battery was being reconnected after service or extended storage.
In other cases the MFI display would jump the hour counter to 533 hours. I suspect that this occurs during extended storage
with battery still connected
but gradually weakening over time. At some point the display gets confused by the decreased battery voltage and the hour counter changes itself.
Until now, what was not widely known was how to reset the engine hour counter in these Polaris displays at will, on demand. With the release of this information, obviously a zero or very low hour display is unlikely to reflect the actual engine hours on a Polaris watercraft.
This was always true
since displays can be swapped between watercraft and spontaneous hour counter resets were and are fairly common.
It is imperative that any prospective purchase of a Polaris watercraft include a thorough inspection of the actual mechanical condition of the engine and everything else.

Do not depend on the hour counter in the display to tell you the actual engine hours.
Do not depend upon the hour number as a proxy for actual engine condition and potential longevity.